Artist     |    Website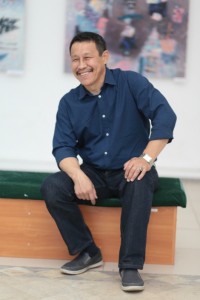 ARTIST STATEMENT
When I work, the main idea, which I pursue in the picture, has ceased to exist for me in the form in which a man understands what he intends to represent by his picture. I do not aspire to do some specific task; I just want to let the passion and the power that overwhelms me at the thought of life itself run free. Life is very difficult to be described in forms or shapes. It is too emotionally permeated by feelings and I see these feelings through the prism of color combinations. I look at life as an outside observer and I see it in the color of my insanity. Life mood I deliver through the brightness and monochrome, harmony and distemper. For me color is breathing, it sounds and, therefore, I do not aspire to find understanding in the audience beginning to create a picture, I just want a person looking at my paintings enter into their spirit, feel itself as part of the paintings, find its place in them and became their actor, because the color in the picture is exactly a passion that creates the impulse of life, its breath, its dangers, its love and its peace. Each spectator can interpret what he or she sees in my paintings in different ways. And it does not matter to me what exactly a spectator found in the picture for itself.
Much more significant for me is that the painting was alive, this is possible if the spectator would get a new feeling in that picture while looking it each time, struggling with emotions, refused to previous settings, confessed his doubts, searched for the meanings and wouldn't understanding, wishing analyze it over again.
I want a spectator would like to understand that in my picture, he should find himself, who he is here and now, rather than yesterday and tomorrow. Will I be interesting for an American spectator, I think he at least tries to do so, because the society established in the fight, can't be lazy initially.
Every minute, every day is precious for that society and it is unable to live in the past or future, it lives in the present, since that present has been won in the struggle for life. It unites us; I want to stay permanently in it.
A few words on my-self:
During the years prior to the current moment, I paid much attention to the art of painting of my works, which became possible due to frequent exhibitions and participation in projects for the promotion of Kazakh art in Europe.
My exhibitions were held in such cities as London, Vancouver, Moscow, Cannes, Monaco, Brussels. European Society graciously accepted my works and in the year 2008 one of my paintings "Smuta" was sold at Christie's, in the year 2005 the legendary rock band Guns N'Roses purchased one of my paintings entitled "Echo" from the private collection of the Belgian gallery Eurasia for their album "Chinese democracy". Currently, my paintings are located in such museums as:
1) Kasteyev State Museum of Arts, Almaty, Kazakhstan
2) Astana Museum of Modern Art, Astana, Kazakhstan
3) Umay Museum named after Zhanatai Shardenov, Almaty, Kazakhstan
4) Ministry of Culture of Republic of Kazakhstan, Astana, Kazakhstan
5) Union of Artists of Belorussia, Minsk, Belorussia
6) Union of Artists of Russia, Moscow, Russia
7) Novosibirsk State Gallery, Russia
For more information about my picture-shows, please visit my website at www.bekeyev.kz.
I will be grateful to the competition committee for examine of my application, and I'll look forward of the competition's results.