Artist     |    Website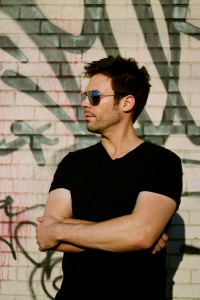 ARTIST STATEMENT
"Conceptual Artist, I think." – The Work of J. Robert Feld
J. Robert Feld is a trans-disciplinary artist in New York City who works across a variety of mediums. He is a conceptual artist, a realistic graphite portraitist, and a sculptor of non-traditional materials. Originally from Philadelphia, he attended Maryland Institute, College of Art before moving to New York City in 2003.
His provocative conceptual work casts a cynical and sardonic eye to institutions and practices in contemporary society.  The series Stimulus and Depressants is an exercise in minimalism and, post-Occupy, a wildly ambitious critique of capitalism and its excesses.   The series Mondrian Inverted, through appropriation, addresses technology's unspoken influence on the cognitive processing of visual imagery.
Simultaneous to and parallel with his conceptual explorations, he works in traditional representational art with portraiture influenced by the pop sensibility of commercial imagery and the color abstraction of street art.   "I enjoy transgressing the boundaries of academic art and commercial imagery, which is so dominant in street art.  There's a tension between the two fields that limits sophistication in popular imagery on the one hand, and rejects physical beauty in academia on the other. I find it thrilling to challenge the perceptions of both audiences."
This populist appeal is just one aspect that sets J. Robert Feld apart from his contemporaries. "Academic art has produced a sterile and impotent environment," he claims.  "Contemporary art's impact has been diluted with the increasing fragmentation of society.  It has no actual role in the national conversation, no practical function outside of it's own orbit.  I make a conscious effort to go beyond traditional art audiences in a claim toward relevancy for art itself."
Consistent with this philosophy, he deliberately works outside of the traditional artist/gallery model.  "It's difficult for me to justify participating in the gallery structure when alternative avenues exist to directly connect with clients so intimately and with such immediacy."
In 2013, J. Robert Feld was acclaimed by ArtInfo as one of the top 10 places to visit during Bushwick Open Studios.  That same year he was accepted into the Florence Biennale.  His 2014 series Mondrian Inverted was hailed positively by New York Magazine's art critic Jerry Saltz and featured in many online and print magazines.
Mr. Feld also has an accomplished online presence; his written work has been described by New York Magazine's Approval Matrix as "low-brow and brilliant," while his twitter account is followed by such discriminating luminaries as Richard Prince, M.I.A., and Raymond Pettibon.
He lives and works in Williamsburg, Brooklyn.