Invalid Displayed Gallery
Artist     |     Website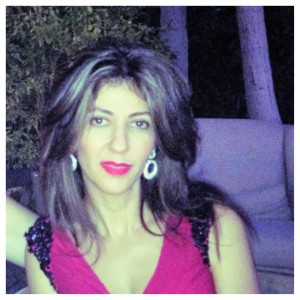 ARTIST STATEMENT
Iranian born and fluent in five languages, Mashian believes that each language she speaks adds a new dimension to her life, a new layer. She earned a Bachelor of Science degree from USC.
Painting is my passion. A pleasurable, invigorating, exposing, transforming and at times frustrating experience on an ongoing basis. I think the most enjoyable part of painting is the meditative quality that it brings to my life.  To be silent, to play and to create for hours at a time is exciting. So that is why I paint!
Working in series, enables me to have a deeper experience with the same subject matter. I work very intuitively, and have learned to trust the creative process. Having created many paintings in the past gives me the confidence and assurance for every brushstroke that I make in the present.
One of my favorite series is my Tree Series. Trees and their ability to be so solid yet so flowing, fascinate me. They are rooted deeply and their branches reach out to the sky. They surrender to all the elements with ease and grace. They are beautiful.
My favorite medium for this series is Acrylic. Layering and creating depth work in harmony in my art, two properties best expressed through the Acrylic medium. My work oscillates between realism and fantasy. The members of my audience find themselves among these trees and the journey begins. My goal is to evoke the audience's emotion. Is it tranquility, danger, love, joy, or frustration that they are experiencing? Or is it just a painting of a forest without any emotional response?
About the artist –
For over seventeen years, the paintings of Santa Monica artist Haleh Mashian have colorfully illustrated her whimsical and astute view of the world, both real and imagined. With layer upon layer of thick acrylic paint continually applied, scraped off and re-applied, her paintings reveal richly colored stratum of expressivity. Fascinated by the similarities between color theory and musical composition (she is also an accomplished composer), Mashian merges theory with instinct, ultimately transcending visual boundaries and bringing all the senses to her work. Key to her creative process is her ability to translate into visual form her inner expression and sense of intuition. With this process in motion, Mashian dances with color and shape.