Artist     |    Website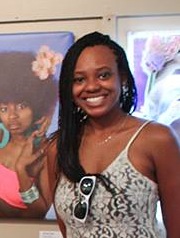 ARTIST STATEMENT
Carlisha Shanae Watkins was born January 21, 1989 in Cocoa Beach, FL. Currently, she lives in Saint Leonard, MD and works in digital/collage-based photography. While her primary focus is portrait/fashion photography, she ventures off to landscape, abstract, and documentary photography from time to time.
Carlisha studied photography at the University of Maryland Baltimore County and received a Bachelor of Arts degree in Visual Arts. During her college career, she participated in five student exhibitions held by the UMBC Photography and Visual Arts Department: Vogue, Digital Manipulation, Nudes, Miniature World, and The Senior Exit Exhibition. The Senior Exit Exhibition included all graduating seniors of the Visual Arts Department to showcase their senior art projects.
The Visual Arts Department awarded Carlisha with an Outstanding Artwork in Photography Award for The House of Rootsphotography collection she produced as part of the exhibition. In the spring of 2014, Carlisha plans to attend the School of Visual Arts in Manhattan, NY. There, she will study Fashion Photography while pressing to complete The House of Roots photography collection.