Artist     |    Website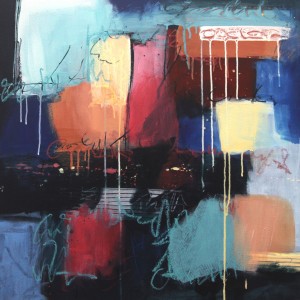 ARTIST STATEMENT
My art is an exploration of color, movement and emotion. I draw inspiration from varied subjects – my childhood in Norway, my travels around the world and the ups and downs of daily life. I contemplate a feeling, visualize a memory and then work on creating an abstract representation on canvas.
I like to experiment, and I have an instinct for the emotionally power of color, movement, texture and shape and how these elements interplay.
The changing state of these create some amazing outcomes. I work in acrylics, sometimes using mixed media and pastels.
I start with a feeling and a palette of color. From there, I let my subconscious speak. It makes the exploration of colors and light a more organic and improvisational experience.
My strength of vision and personal style always resonate within the recesses of the viewer's. My innovations are more emotional than formal, my works are forces-joyful, expressive, cosmic surges that explode the conventions and boundaries of the canvas frame.
I work on a series of paintings together, to further explore certain colors and themes that I find moving. I work in thin layers – adding layer upon layer – to achieve shadows of what is underneath.
I'm slowly building a narrative with each layer, and it is the unsaid, not that which is told that shines in my art.
I do not want to tell the whole story. Instead, I want to leave something that others can explore in the painting and find their own story.