Artist     |     Website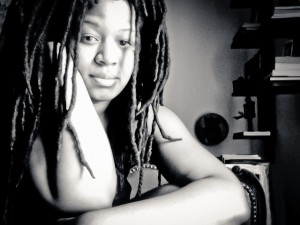 ARTIST STATEMENT
My photographic practice merges the rural landscapes of William Eggleston and Walker Evans, the elegant vignettes of James Van Der Zee, and the unearthly illusions of speculative fiction.  The whimsical portraits I create comment on the haunting gaps within cultural memory and histories, and fill these voids with imaginative fantasies pieced together from fairytales, family myths and overheard gossip, superstitions, sermons, archival family photographs, Baptist hymns, and cultural iconicity—a visual take on Audre Lorde's "biomythography."  In this way, I draw from the canons of magical realism, southern gothic literature, and the carnivalesque in order to meditate on disruption and magic in the seemingly mundane routines and rituals of rural life.
Though I was raised in Miami, Florida, my familial roots lie in the rural south, where I spent childhood summers on my family's farm in small-town Tennessee.  There, I helped plant and harvest crops, tend animals, and burn trash.  Each season, I became immersed in the intertwined patterns of people and landscape.  These experiences shaped both my appreciation of the ritualistic cycles of agrarian life and my curiosity about what eccentricities lie amongst and beneath the surface of everyday existence.  This twofold understanding fuels my attention to the dualisms found in the concepts of public versus private, exterior versus interior, beauty versus vulgarity.  My work also takes on this split quality; it is simultaneously whimsical and haunting, tangible and ethereal, ornate and deadpan.
My artwork takes the form of environmental portraiture and photographic-based installation.  In many of my portraits, I construct elements of my sitters' garments out of taxidermy—animal hides, antlers, skins, and heads.  Additional icons such as lace, flowers, veils, church fans, tambourines, curiosities, and food items animate my play on cultural history and memory and toy with expectations of identity and culture against the rural landscape.  At once fanciful and severe, my work invites the viewer to question their own understanding of fiction and reality and shatters conventional concepts of race, gender, geography, and embodiment.