Artist     |     Website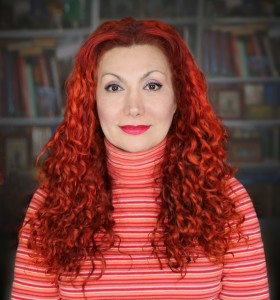 ARTIST STATEMENT
As a computer-based  and new media artist I work with new emerging technologies, employing a distinct  narratology that blends personal and global experiences, while exploring Post humanist  and contemporary digital themes. My projects range from digital paintings to animations, interactive media, installation, and performances with laptop visuals, and use technological R&D in addition to traditional artistic and media-based innovative strategies. I have an aggregated aesthetic system  that blends abstraction and figuration while blending eastern and western art with the distinct contemporary signature of digital culture. These projects explore and rethink form for  painting, in still and animated form. The resulting work is akin to high fidelity, cinematic, Postmillennial illuminated manuscripts with 3d Computer graphics and animation, analog and digital painting, text, graphics, graffiti, fractals and special effects.
I routinely develop new techniques for my pieces, often pioneering technologies in support of these sublime and poetic projects. As a woman artist working with technology, it is important for me to emphasize mastery and refinement of visuals, craft, technology, and conceptual depth simultaneously, in direct contradiction to patriarchal prejudices against women and their abilities. I start by Motion Capturing improvised dance and human gesticulation, which I then apply to 3d characters of my own design and making, these figures loosely reference video game style characters while suggesting a technological form for humanity. I then model and paint elaborate virtual sets employing a combination of digital and analog painting. I work with a combination of artistic techniques and a variety of computer generative ones, as a form of human and machine collaboration and jam session. I also use audio-triggering of various visual elements in a form of technological synesthesia, in which one media, such as sound, effects another, such as visuals. This brings an unpredictable, magical, and metaphysical dimension to the technological environment in which I work in, as an extension of a digital ontology. I also incorporate text and poetry into each piece mixing autobiographical stories with greater political, cultural, and global narratives in a manner similar to the Persian miniatures and illuminated manuscripts of my ancestral origins.
My own experiences as a political refugee of Iranian descent, who lives in New York City, form the basis for some of the political and feminist dimensions in my work, as I create space in my American narratives for other cultural personas that blend into a global stream of ethnicity and nationality. The primary thematic premise for these narratives is a sublime, heroic, political, global, cathartic, and expressionistic premise in which imagined worlds of great monumentality mirror a collective and individual zeitgeist that is emerging out of our hybrid machine and human paradigm.